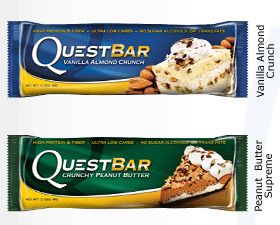 Whats NOT to love about Rachel, Quest Bars, and her workout? So far, I am feeling every muscle in my upper body and its only day 2 whew that's good stuff! She RAWKS!
Note: I got the 28 day challenge pics loaded but not posted yet, maybe tonight.
Today I did this workout at home, so I did have some modifications on the rope pull downs. I used my TRX system and did my cable pulls with resistance bands.
It was an awesome workout!
Since I am out of whey protein, I decided to make my Monsters this week with just spinach and fruit (veggies and fruit) with a dash of olive oil and then get to the office and eat my Quest bar = D-lish!
Today was Peanut Butter Supreme and it is just as fabulous as the Almond Crunch and you really feel great eating these without GUILT! They are just like a texture of a sinful brownie, but so good for you. This adds 20g of protein after my workout and I am just fine with that.
Got up, drank my Fire Water (lemon wedges in 1 cup water and a huge dash of red pepper) Then headed downstairs to my fitness studio, cranked up some Zumba music and hit the workout hard...I am spent!
Day 2: Chest and Triceps
Workout - Rachel Mac Quest Workout Chest and Triceps
Time of workout = 30 mins
Cals burned = 90
Warm up:
Zumba moves
Arm open chest and circles
Twists
CHEST
(These are supposed to be sets of 3 I did 2 sets due to time)
•Chest press on a ball - 15lb db 2x15
•Incline chest press - 15lb db 2x15
•Cable cross overs w/resistance bands 2x20 each position high/low
TRICEPS:
•Bench dips - 2 x20 bent knee
(Ops - should have tried this but I did not see this, hey it was early cut T. some slack will do this next week: If you're feeling strong, you can put a weighted plate in your lap)
•Seated triceps press- I did Standing double kickbacks 15lb db 2 x15
•Rope press downs - I did TRX standing pull ups w/elbow out 2x15
My meals have been clean too.
Breakfast:
Cinnamon, ground, 1 tsp 6 2 0 0
Mangos, 0.5 cup, sliced 54 14 0 0
Old Fashioned Quaker Oatmeal- Plain (1/2 cup dry), 1 serving 150 27 3 5
Coconut, raw, 25 grams 89 4 8 1
Breakfast TOTALS: 298 47 12 6
Lunch:
Perdue Chicken Boneless, Skinless No Hormones Breasts 4.8oz, 1 serving 140 1 3 28
Broccoli, frozen, 0.5 package (10 oz) 41 8 0 4
Mozzarella Cheese, part skim milk, 0.5 oz 36 0 2 3
Lunch TOTALS: 217 9 5 36
Dinner:
Scrambled Egg, 0.5 cup 126 2 13 12
Jams, preserves, jelly, 2 tbsp 111 28 0 0
Bread, wheat (including toast), 2 slice 130 24 2 5
Dinner TOTALS: 367 53 15 17
Snack:
Quest Protein Bar - Vanilla Almond Crunch, 1 serving 230 19 12 20
Olive Oil, 1 1tsp 40 0 5 0
Banana, fresh, 1 small (6" to 6-7/8" long) 93 24 1 1
Whey Protein 100% Gold Standard Dbl Choc, 0.5 serving 60 2 1 12
Water, bottled, 1 serving 0 0 0 0
Pepper Cayenne or Red, 1 tsp 6 1 0 0
Lemon Juice, 1 wedge yields 1 1 0 0
Snack TOTALS: 430 46 18 33
Snack 1:
Apples, fresh, 1 small (2-1/2" dia) (approx 4 per lb) 63 16 0 0
Almond Butter, 2 tbsp 203 7 19 5
Snack 1 TOTALS: 265 23 19 5
Snack 2:
Gold Standard 100% Casein Protein, 1 serving 120 3 1 24
Snack 2 TOTALS: 120 3 1 24
CALORIES CARBS FAT PROTEIN
1,698 181 70 121
Deficit = 215
MISSION = BIKINI
Here is the rest of the Rachel Mac Quest Workout:
www.blog.questproteinbar.com/the-rachel-mac-workout