Since I am not able to post my workout I thought I would share with you what my lunch cooler looks like.

Here is a normal lunch, however it does vary from time to time. My meals are 4, one at 8am, 10am, 1pm and last snack at 3pm. (Dinner at 5.30pm last Casein snack at 7pm)
This meal would be:

1. 1 scoop whey, 1/2 pb and honey sandwich
2. oats, cinnamon, banana, 1 tbs pb
3. 1/2 pb and honey sandwich, 1 cup yogurt w/blueberries
4. cottage cheese, peaches and nuts
Cals =1,410 carbs =150 fat =50 protein =103

As most of you know, I normally workout 45 minutes in the morning and a walk at lunch.
Enjoy the picture blog.........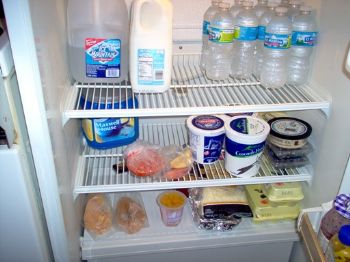 My fridge - Coffee, water and eggs are staples, plus some chicken breast I get Purdue hormone free all individually wrapped (and buy when on sale). Usually $11 a box get on sale for $9 and well worth the money over other boneless breasts. If you have not tried them, you will get hooked. Cooked on my Foreman grill there is never any fat drainage, they are that lean and clean.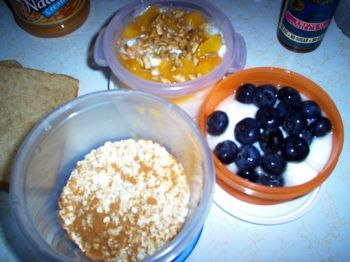 Packing my lunch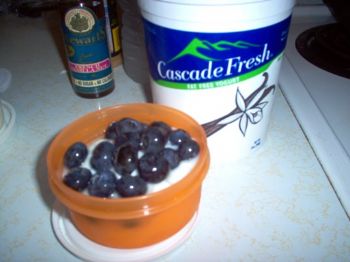 Yogurt and blueberries (also I just found this bottle of sugar free vanilla nut flavoring for coffees that I am going to try in Greek yogurt instead of a sugar substitute since its so tart)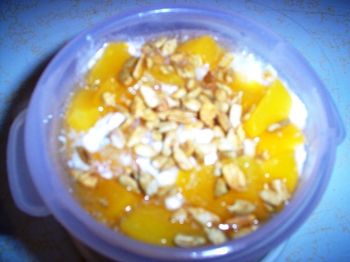 Cottage cheese and peaches with sunflower seeds, its got that sweet salty taste and sometimes I use peanuts or sesame seeds.
PB and honey - I usually have Smart Balance which has flax seed but this was on sale.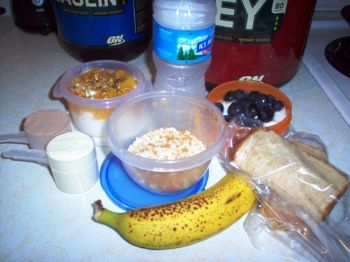 My day time meal, including 1 scoop whey (vanilla) in the morning and 1 scoop casein (Chocolate) in the evening (the only thing missing is my dinner)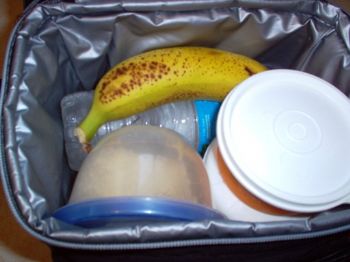 My lunch packed - all my containers are 1 cup servings in this lunch, I have 1 cup and 1/2 cup containers that I use to keep my portions controlled.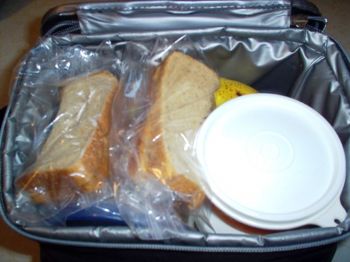 1 water, 1 banana, oats, yogurt, cottage cheese, peaches and blueberries, pb and honey sandwich
My new smoothie maker, I can't wait to get back to them.
Like most people I try to stay on a food budget
, so I don't buy organic and I won't upgrade my milk to soy or almond unless I can afford to each week. I will try to get a picture of my pantry and fridge next time.
Ok, I just changed the look of my blog and if anyone has an opinion let me know.
Now that they have all these new templates I spent an hour trying to decide. Btw, I do NOT get any compensation on any of my product reviews I just like to share information that works for me.
Hoping to walk again today, trying to make things happen during recovery.
Weight today = 119
NO EXCUSE I MAKE IT HAPPEN!