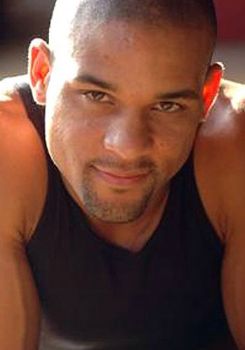 Is Shaun T. trying to kill me?
(Don't let this sweet picture fool you this guy is tough!)
I'm not sure but at least
I am not having a love/hate with him like I did with
Tony Horton
and P90X! I think its more like a.....your sweating right there with me, but I am like 15 years older!
PURE cardio is right! Good thing I do most of these moves a few times a week and on the elliptical or I would have died...D-I-E-D! (The moves: Standing mountain climbers & power knees)
I really enjoy the fact that he is very humble, he knows your working hard, he is even telling some of the cast to take a break.
How fabulous is that? Ok, I wanted to take a break but the competitor in me said, "NOT gonna do it!" (that's in a President Bush voice) Or the fact that if I did, I may not go back.. lol.
I decided to explain some of these moves
because they are kinda hard to know what they are but if you want to know any of them just ask me ok?
The warm up, if you call it that is pretty much the same on all of these so far and so is the stretch. I like that because I am feeling like I can get much better form NOT looking at the screen the whole time. (plus I am writing these out like a mad woman)
My favorite move was "Wide football sprints", followed by "Hook 8 jump rope 4" then the "8 push ups 8 runs".

The football sprints are like blocks hands out front legs wide going as fast as you can run, then jump down to a stance as if your going to throw the ball then back up, its fast and furious fun!
The Hook 8 jump 4. Hooks are my favorite move so that's pretty easy, then you air jump rope 4 jumps. The 8 push ups you do 8 push ups, then you jump up and run in place 8 jogs.
EACH TIME IT GETS FASTER!
Last night I decided to try my Casein with water and cold coffee...I'm in love! Casein is thicker and richer then Whey, so it was like a tasty thick shake and totally D-lish!
Today's workout another sweat session!
So far I am loving this more then the 2 rounds of P90X. (more on that later)
I did post my stats and I am OK with them, lets see if Insanity changes that. I am not following the diet so far, I am still working with a trainer on that and a chef. My job is restricted on food times, so its kinda hard for me to eat 1 hour after a workout. Its kinda close, but still we are working something out.
Post workout snack
- 1 full serving of PB chocolate Muscle milk with 1 cup almond milk. I have finished out my Muscle milk which I got on sale, and am back to my 100% Gold standard whey in Ice cream vanilla. (I do this RIGHT after my workout)
Insanity Week 1 Day 4

Pure Cardio
Time = 45 min
Cals burned = 281
Friday Stats:
WT = 119
BF% 23.7
BMI 20.4
Complete 3 times:
Jogs
J jacks
Heisman
Heisman x3
Butt kicks
High knees
Mummy kicks
Stretch
Flat back to lunge contractions
Crescent lunge w/contractions
T-stand bent knee
Lunge to butt lifts - back straight leg lifts
Crescent twist to low triangle
Lunge to butt lifts - back straight leg lifts
Runners lunge to crescent twist to low triangle
All are 1 minute each:
Suicides
Switch kicks - I did not jump this is kicking in front of you, then jump to the other leg
Wide foot ball sprints
Stance jacks - These hurt the back, you have to be very careful how you support yourself
Pedal - sprint to lunges
Hook 8 jump rope 4 - RAWKED
Power jacks
Level 2 drills all are 1 minute:
8 push ups 8 runs - RAWKED
Frog jumps
Power knee - bring knee to chest singles each side
Mountain climbers standing - RAWKED
Ski down
Scissor runs
Suicide jump
Push up jacks - 15
Stretch
NO EXCUSES I MAKE IT HAPPEN