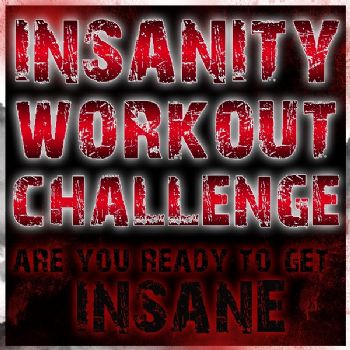 Warning, this is a tough workout on the knees!

As I said yesterday on my blog that I love plyometrics,
this is jump training too
. SHOCKED! So if you have bad knees I would not get this workout or would NOT jump high on ANY OF these moves.
Like P90X Rockstar Jumps, he does Power Jumps = same thing without the air guitar. This move I only brought my knees up 50% or I would NOT be able to continue. (Imagine jumping up with knees so high they are at your waistline)
Remember any time you do plyo, land soft on the feet more towards the toes not the heels.

Other then that, this workout RAWKED!
Insanity Week 1 Day 2

Cardio Power & Resistance
Time = 45 mins
Cals burned = 281
Complete 3 times:
Jogs
Power jacks
Log jumps
1,2,3 Heisman
Butt kicks
High knees
Vertical jumps
Stretch
Complete 3 times:
Power jumps = 25 low jumps each time
Belt kicks
Hit the floor [ these kinda strain the back I went slower]
V Push ups = 15,20,23
Tricep dips [ I did round 2 & 3 off the couch due to wrists]
Ball tricep
Complete 3 times:
Hurdle jump
Globe jumps
Moving push ups
Floor sprints
Bonus round 3 times:
8 Hop squats to 8 push ups
Stretch
My favorite move was the "8 hop to 8 push up"
and the "V push ups" followed by "Hurdle jump". Again I was soaked doing this workout and so far I am really loving it.
NO EXCUSE I MAKE IT HAPPEN