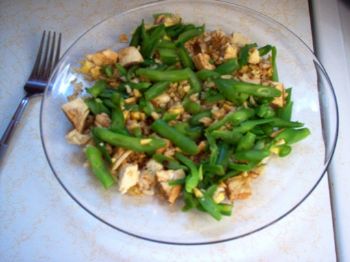 Last night I made this great easy combo meal.

It was chicken, brown rice, scrambled eggs, mushrooms and green beans with almonds. I added 3 tbs of light soy sauce and it was delish! Time to prepare = 15 mins (I do the chicken on the Forman grill and rice in the micro)
It came in nutritionally:
Cals = 333 Carbs = 29 Fat = 10 Protein = 37
I did get in another walk at lunch yesterday with inclines.
Cals burned = 114 and did my one leg dips as a bonus and did not fall down! Woot woot, not that my balance is back but I was able to do them and that kinda made my day (and my bootays too) It was hot and again today but if its not too humid I will also try again today as I am feeling really stiff and fluffy without my workouts.
Here is a fun fact I just read,
if you change your thermostat 2 degrees you will save 2%
off your bill. So guess what I am doing, upping the A/C setting 2 degrees and giving T. a 2% electric savings raise.
I just got my July Oxygen magazine and spotted a MUST make recipe, cookies.
This is the the thing that is great for me on the run and when my sweet tooth hits me. I plan to make this this weekend, but thought I would share the recipe.
Also I won't be adding the optional items.
Heck I don't even know what "sucanat" is and I never understand why make a recipe with options....don't they know we will add or subtract what we don't like anyways?
Come on, that's why there are so many cooking shows! Ok, enjoy and let me know if you make them.
Protein Packed Cookies July Oxygen magazine recipe:

1 cup whole grain flour
1 c wheat bran
1 c vanilla protein powder
1/2 tsp baking soda
1/3 c sucanat (optional)
1 tbs pineapple juice
1 c unsweetened applesauce
2 egg whites
1 tsp pure vanilla extract
1/2 tsp pure coconut extract (optional)
1 c finely chopped fresh pineapple or 1 8oz can unsweetened crushed pineapple
1. preheat oven 350 line baking sheet with parchment paper
2. in a large bowl mix together first 4 ingredients, set aside
3. in a small bowl, stir in sucanat (optional) into pineapple juice. Set aside
4. add all remaining ingredients to the large bowl and combine gently, do not over mix
5. use a spoon and bare hands to form dough into walnut sized balls. Place balls onto baking sheet, flattening slightly. Bake in oven until lightly browned. Let cool before serving.
Nutrition:
Calories 100
Total fat 1g
Trans fat 0
Saturated fat 0
cholesterol 15mg
sodium 50
total carbohydrates 15g
fiber 2g
sugar 6g
protein 8g
iron 1mg
NO EXCUSE I MAKE IT HAPPENps- here is my take on the rave of coconut water
http://www.examiner.com/x-28813-St-Louis-Fitness-Trends-Examiner~y2010m6d16-Coconut-Water-the-natural-Gatorade