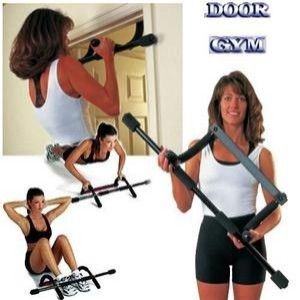 I finally got the "Iron Gym" Pull up Bar!
Bed Bath and Beyond sent me a $5 off coupon so off I went to get it. It was $29.99 there and $39.99 at GNC so I was thrilled to get it so cheap. I was hoping for a sale, but then the mailer came so I went to get it on Sunday. I could have also ordered it from Beach body, but after shipping it would have still been more.
Now when I do the P90X program I can actually do some assisted pull ups. I can't do a full pull up yet, and never have since my injury however I was at a 45lb assisted and I am happy with that for 10 reps. (which means I was lifting 70lb of my body weight 115-45=70) In case you have never used one
I lined up a chair to be able to do this
, and its going to workout great and the really good news........I did 2 sets of 10 this morning! I was using a body bar and placing it over some chairs and doing them from the floor or using the bands from a door and laying on the floor.
Wow this is so much more of a challenge!

I started my new eats this week, with some more good fats so lets see if T. can get good mass going on. I didn't really care for my pre-workout meal, but I will be glad to get some good results with these new foods and macros. I'm not happy that even my 2's are big, so NOT good. Then I have legs that go to the moon, its just not pretty unless I was still modeling. I mean eating an orange, nuts, string cheese and milk was kinda overload on the taste buds you know? Glad that days meal is done!
I teach kickboxing tonight, and I took a nice incline walk at lunch and did the Yo-vember Yoga challenge. We have weather in the 60's, so I also got in 3 sets of 20 tricep dips, 25 incline pushups, along with triangle.
Halloween was fun
, I'm just glad there are NO more treats.
Bad Things T. Ate last week:

1 small piece of coconut pie
2 scoops of coffee icecream
2 banana laffy taffy
2 mini candy bars
Here is my workout today:
Round 2 Day 17 P90X

Workout - Chest & Back
Mood - Ok
Wt - 115
Time of workout = 40
Jumping Jacks 40
Pushups 2x20
Military pushups 2x15
Wide fly pushup 20
Decline pushups 8
Heavy pants 2x25 - 10lb
Diamond pushups 15 & 10 on knees
Lawn mowers 25 - 10lb
Divebombers - 0
Back flys 20 -10lb
Pull up asst with chair 2x10
Getting the Rockstar Body...........