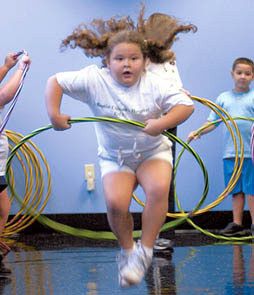 I'm asking for support on the Trainer T. Foundation, it won't cost you anything.

It's FREE!
Here is the link to the blog about my vision, and its taken 6 months to the day but its happening!
www.sparkpeople.com/mypage_public_journal_individual.asp?blog_id=2058715
(Please note: I did not reveal the exact complete details, since I plan to keep the legal end private and don't want anyone stealing my concept)
We will be challenging kids in a fun, fitness environment, and educating them on a healthy lifestyle, getting them up and moving is the mission.
Trainer T. Foundation = Mission Possible save our kids!
If you would like to support this effort, I am writing now and the proceeds are going to fight against obesity in kids at the Trainer T. Foundation. This is set up in a seperate account, strickly for this vision.
Please subscribe, bookmark or forward this to ANYONE you know that may be interested in helping me with this cause.

Here is the link, we get paid by clicks:

www.examiner.com/x-28813-St-Louis-Fitness-Trends-Examiner
Thank you from the bottom of my heart for taking the time to read this, and or supporting this cause.
Teresa aka Trainer T.