Women who eat out 5 times a week consume 290 EXTRA calories daily, time to start eating from home.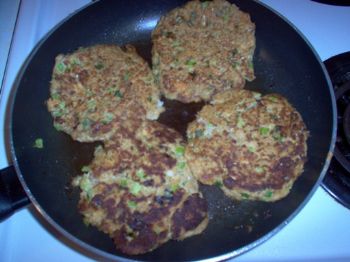 Asian-Style Salmon Patties
With carrots and white rice
I just tried the recipe from December Oxygen magazine, so tasty!
www.oxygenmag.com
The only thing that I added, was I did drizzle a bit of honey over the patty, and add a splash of low sodium soy sauce over the rice. (which would have been a prettier picture)
Asian-Style Salmon Patties
14oz can salmon (I used bumblebee)
1/4 c whole wheat bread crumbs
1 celery stalk chopped
1/2 tbs low sodium soy sauce (I used La Choy)
2 egg whites slightly beaten (I used egg beater egg whites)
1/2 tsp fresh grated ginger (I used canned spice)
1/2 tsp sesame oil
1 tsp olive oil
1. In a medium bowl mix salmon and next 7 ingredients, shape into 4 patties.
2. In a medium skillet, heat olive oil and cook patties until lightly browned on both sides approximately 8 minutes. Serve with a salad or brown rice.
Nutrients per serving:
Calories - 195
Total fat - 7g
Saturated fat - 1g
Trans fat - 0
Cholesterol - 80 mg
Sodium - 545 mg
Total Carbohydrates - 7g
Dietary fiber - 1 g
Sugar - 1 g
Protein - 26 g
Iron - 2 mg
Enjoy..........
Btw..here is my latest
www.examiner.com/x-28813-St-Louis-Fitness-Trends-Examiner