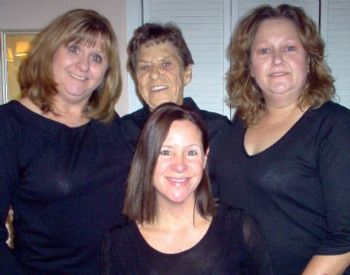 Here is what we looked like in our black shirts and blue jeans for the family portrait.
I only hope our shirts don't look this "thin" or sheer with our bra showing in the actual photos, they did not when we saw them. We ended up getting the package that came with the disk so mom can make extra prints for holiday cards.
I ordered the full body shot, the one of me and my 2 sisters laying/sitting on the floor. Cindy the oldest (on the left) and Sherry the middle sister (on the right), I'm the baby. They look like my dad did, blonde and blue eyed I look like mom dark hair and green eyes.We got lots of pictures of mom and us and my nephew Joey the ONLY grandchild. Needless to say he got a bianicals toy for doing this, and avoided a haircut so YUP he looks like a girl in the picture. Awww to be 11 again.
As you can see, I colored my hair dark and its still NOT as dark as my true hair color.
I used the new 10 minute hair color by Loreal, in natural dark brown, it was $10 vs the salon price of $88. I was going to Sally's but then I could not get my sis on the phone and said, heck with it. This will last a few months, the girl at Walgreen's said it fades faster then normal so I am very happy with that. It will get me through holidays and that's really all that matters to me right now and save me cash-oloa too!
I can't believe my weigh in today was 114.5 that's just CRAZY!
When did you say, I'm sick of being FAT?You know that turning point, where the clothes are tight, or a change in your life occurs? Usually for most it is when a relationship ends, but not always. Sometimes a spouse will start and the other will join in, or even better the whole family.
When did the turning point happen to you?
Or maybe you were like me, always fit and into fitness. At the age of 9 I won my first fitness record at school. Yes I held that record for 15 years on the Flex Arm Hang bar. (This as a bar that you just hang in a lifted position as the finish of a pull up). Its holding your own weight for as long as possible.
I just had this innate sense to challenge myself in fitness from a young age, winning fitness awards every year until high school.
Not to bore you, but that was when I was declined to be a Golden Girl Dancer as a freshmen because even though I could kick my leg over my head, I could not do a full split.
That did not discourage me, I just went on to body building. My switch to that was because I was slender with no shape, ok that's a nice way of saying I was a skinny mini and hated that. I wanted to be like Kathy Smith, strong, curvy and with glutes. The moment I saw her I knew that was my goal, and maybe my switch.
So was there a time, since I know this story may not be even close to yours that you changed your mindset? Influenced by someone or something?
Hey, who knew I came from a family that smoked and never worked out. The only plus was, my mom was very much into eating clean and balanced. Thanks mom! Now I continue to challenge myself on different levels, learn new things and am going to continue training well into my centennial years. I hope you will too!
Getting the Rockstar Body......