I know it sounds gross, but do you re-wear your workout clothes?
I'm guilty of this!
I buy really great workout outfits that have the dry wicking and anti-moisture features but I still wear them twice before I wash them. (Here is the link to the brand I buy and love)
www.bluefishactivewear.com/aboutbluefishactivewear.php
Normally I will wear my outfit for a strength training session, then the next time for cardio, then the wash.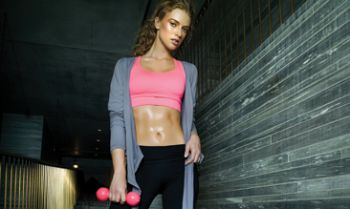 Sniff test?
I have a hanging area that I put my clothes in after I workout and honestly I give them the "sniff test" and they pass so why not?
I don't just wear the same outfit I have 3, so I am skipping a day or so before I wear it again but I do NOT wash it before the second wearing.
Why?
Well lets say I am "going green" and saving water. Or saving wear and tare on the fabric, as well as... I'm just too lazy to run a short cycle or HEAVEN FORBID wash it buy hand.
Do you do wash yours each wear? Does it depend on what type of workout you do?
Honestly I am also guilty of re-wearing other items too YUP!
I will usually wear my jeans two times before I wash them and some, not all, but my dry clean sweaters too. I don't think I am "cheap or frugal" but maybe I am? Since everyone is going "green" can I consider this my way of helping the earth out?Or just saving green backs on laundry soap, water, time and drycleaning bills?
Cameron Diaz said that she has a "green plan" when it comes to the bathroom:
"If its brown flush it down....If its yellow let it mellow"
We have been doing this for about 4 months, and I do see about a $5 savings on my water bill each bill. Of course its at "discretion" because when you get in as much water as I do, I go every hour! Is that gross? I mean she does it, and she has lots and lots of money...any thoughts on this too?
Anyway I am on vacation Monday, my sister is at moms and arrived safe last night. I can't wait to see her, and mom it will be so fun so I will be back sparking on Tuesday....I miss you already!
Here is my workout today I skipped the gym:
Workout - ST (At home) 30 Day Shred level 3
Mood - GREAT
Wt - 115.5
Time of workout = 20 minutes
Cals burned = ?
Weekly Stats: Wt = 115.5 BF% 22.6 BMI 19.8
5lb db on all moves, and although I did not really work up a sweat I still enjoyed the variety.
Getting the Rockstar Body........