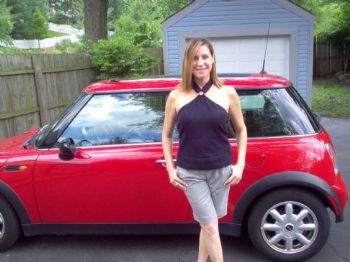 Car Repairs......gotta love them right?
Well I LOVE my MINI!
Why is it always double what you think it will be?

Yesterday I had to get the car fixed to the tune of $800 and now that its repaired I feel safer going into winter. Good news is Bimmers R Us came and picked it up from my office did the repairs, cleaned it, and then dropped it back off in time for me to go home for the day SWEET!
It was the front brakes & rotors and some thing that holds the transmission/engine thingy that was taken care of. I still need to have the hatch hydrolic repaired which is $137 for a new one, and a new wheel rim the one on the passenger side is bent. Funny I don't remember hitting anything but I said NOPE that can wait. Almost 1/2 the charge is labor, as usual.
Honestly I would rather have black wheel rims all the way around. With BMW and MINI the brakes get black stuff on them and the chrome looks so BAD! It never looks clean, so I will put that on the wish list for later along with 2 small dings that need removed. I may be able to get some used ones.....I'm thinking Craigslist!
I love my car and I don't mind that fact that is had to have these repairs because I really have not put much into it and now its at 117,000 miles. I just MOTOR on!
Got home last night and BAM my email said my nightstands are in TRANSIT to my Walmart for pickup! I can't wait to get them, and I even found a bed frame I like for $150. I am going to put that on my wish list, right now I am focused on vacation and holiday.
My sister is on her way from Oklahoma right now, to moms. She will be here a week and I am taking off Monday so I have a 3 day weekend with her. She wants us to get a family portrait, so I need ideas on what color top to wear?
Family Photos, do you do them? In a studio or home photos?

Any Ideas on what to wear?
I'm kinda thinking white, or maybe something solid and classic?
We have not had one done in years and years, and actually we have never got the whole family. Such a shame I would have loved to have one with my dad who has since passed. Luckily I begged my parents to have one before he passed, so we do have a great set of them with him and mom.
No one ever likes having a picture made in my family.
Well then the moments go by and you wish you had one. If I could do it over again I would be sure to have some made every 3-5 yrs atleast, even if its NOT in a studio. Can you believe we have NO pictures of our whole family TOGETHER?
Its true, even as children because someone was always taking the picture you know? I guess thats true for many back then, but due to digital now and camera phones you can always get a photo now. Back then you had to have them developed or use the instant ones which were not so good.
Oh well we are going to get them done, and I will scan and post it.
Here is my workout today:

Workout = Cardio 3 step Step Class
Mood = happy
Wt - forgot.....
Time of workout = 60 mins
Cals burned = 319
60 minute 3 step Step class and it took me a minute to get in the groove. GREAT workout
2 sets of crunches of each:
Basic= 25
Push throughs = 25
Bicycles = 25
Getting the Rockstar Body........