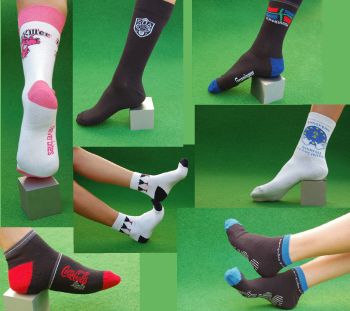 What's the deal with socks?
Are some better then others for workouts?

Are they competing with shoes?
If you have a great pair of shoes, do you need a great pair of socks?
Truthfully I never thought about it until I got me these fabulous Lime Green (of course) padded fitness socks! Wow are they comfy and have padding on the ball and heel only, are low cut like my old navy socks and are warm. (guilty of re-wearing these)
www.thorlo.com/socks/running-socks/micro+mini-crew/13.php?color_id=91
#
Welcome Thorlo socks to T's World!

I have been buying thin ankle socks like this at Old Navy because I don't like a thick sock, but these are thick in all the right places and NOT at my ankle. I really feel more energy with these socks, is that crazy?
Do you have socks that are special to your sport?

Like I said I never thought about how it would effect my performance but now I know differently. I always just wanted the cute outfits, and the good shoes and BAM good to go workout.
So do you buy any ole sock?
Do you buy a name brand to match your outfit?

Here is the $6.50 socks that I buy
www.oldnavy.gap.com/browse/product.do?cid=14675&vid=1&pid=638023&scid=638023022
Is it worth spending $12.99?
Heck you can bet I will be re-wearing these puppies, I can't afford not to!
Any thoughts on what the deal is with socks?
I taught circuit last night and had 9 in class, and just couldn't help myself I had to jump in on the workouts. Fun, fun, fun we kicked the fat to the curb!
Here is my workout today: P90X Round 2 Classic Week 2 Day 3

Workout = P90X Shoulders & Arms
Mood - Peachy
Wt - 114
Time of workout = 40 min
Cals burned = ?
Move - Wt - Reps
Shoulder press - 10lb - 10 - 10
Alt bic - 10lb - 15-15
Two arm kickbacks - 10lb - 10- 7lb - 10
Deep swimmers - 10lb - 10-12
Concentration curls - 10lb - 10 - 15
Chair dips (bent knee) 40 (straight leg) 15
Getting The Rockstar Body.......