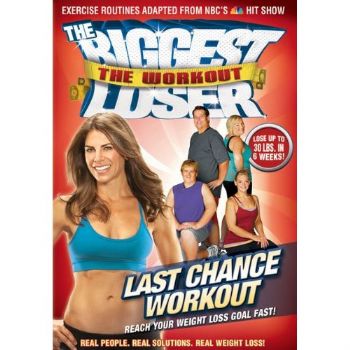 As promised here is the details on the Biggest Losers Last Chance workout dvd. I really think this is a great workout, it goes by so fast you zip in a 30 minute workout without even knowing it. LOVE THAT!
I posted the Amazon link with reviews at the bottom, just so you can see what others thought. I got mine at Best Buy for $10, and its worth it.
I have not done this with just the music, I will try that next time. I still need to write out the cool down and then I will put it all together for anyone that wants to just do the moves without getting the dvd.
I know we are in a recession and want to help.

Questions on the moves just let me know, and you can do these with 5-20lb dumb bells. You can use a light 3-5lb too, since most of the moves are done in a fast pace you want to keep your form.
DONT FORGET A MIRROR.
You can get a cheapo full length mirror at Walmart for $6.98 and it will help you get the moves just right. Form is EVERYTHING, not the quanity so always remember that.
Biggest Loser Last Chance Workout dvd

Warm up 5 minutes:
High knees w/hands alt sides
Reach and pull
Shoulder roll front and back
Squat arms over head
Closed arm side twist
Knee kicks - R
Hip thrust
Hip thrust w/ arm throws overhead
Closed arm twist with toe twists
Knee kicks - L
Hip circles
Rear lunge R and L
Side lunge side to side swiftly
Workout - 25 minutes
each move is 30 sec back and forth intervals from cardio to ST (I have a clock with a big second hand, that really helps if your doing this without the dvd)
I placed how many reps I actually did, along with the dumb bell weight I used. However they again....are all done in 30 second intervals so don't compare my numbers to yours unless you want the challenge.
45 - j jacks
20 - rows 10lb
40 - criss cross jack
20 - wide row 10lb
40 - back and forth j jacks
20 rear flys 5lb
30 sec jog 15 push up - 10 reg 5 girl
30 sec jog
8 staggered pushups
30 sec butt kicks
12 up and down planks
30 sec toe tap side kicks R
20 alt lunges 5lb
30 sec toe tap side kicks L
20 alt side squats 5lb
30 sec alt front kicks
20 dead lifts 10lb
30 sec twist punch 15 bicep curl w/leg bent up R
30 sec hooks
15 hammer curls w/leg bent up L 10lb
30 upper cut punch
60 alt bicep curls fast 5lb
30 sec jump rope
20 tricep kick backs 10lb
30 sec criss cross jump rope
20 tricep extension over head
30 sec 1 leg jump rope
20 single tricep alt 10lb
30 sec moutain climbers
Amazon link with reviews:
www.amazon.com/Biggest-Loser-Workout-Last-Chance/dp/B002OMIKLI/ref=sr_1_1?ie=UTF8&s=dvd&qid=1262797661&sr=1-1
My smoothie batch today:
1 scoop choc whey (I added an extra 3 full scoops=1 blender)
1 c cold coffee
1 c skim
1 c cherries
2 bananas
Getting the Rockstar Body......