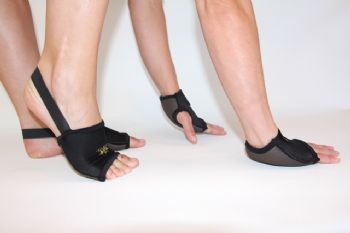 This is the secret to P90X........Yoga Paws!

www.yoga-equipment-store.com/index.php
I just got these in yesterday, put them on and wow! I could not recommend anything better. For P90X I used these this morning with my chest, shoulder and triceps workout and cranked out my pushups! REGULAR ones, not girly!
They were also form fitting to use my weights with them. I would not really replace my weight gloves for anything but just to not have to take these on and off it worked out perfect.

No kidding these are a powerful change in my workout, now I can't wait to do the yoga with them. What makes these great is the fact that they are padded, made my wrist feel so much better because I felt stabilized putting less pressure on them. Easy on and off, and comfy on my tile floor in my workout room and you could use these on carpet.....buh bye yoga mat!
Here is what the company says about them, and I AGREE its the best $27 I have spent. I ordered them from Target.com since I had NO idea they had a website, or a dvd.
"The inspiring and unique way to stabilize your foundation when doing yoga postures and Pilates exercises. A revolutionary mini mat design provides solid support, extra padding, and peace of mind. Fitting in your purse, pocket, or travel bag. Going somewhere? No need to lug that mat around with you anymore cause these things are ideal for TRAVEL!"
(plus right now they have old stock for $10 a set)

The secret is out of the bag now, its up to you to decide if this is a product that will take you to the next level of P90X training like it has me. I'm thrilled!
I taught Zumba last night, it went great. We really worked up a sweat and the class got it after I put it all together so it was a lot of fun along with a good calorie burn. I think I will teach this again, and maybe even get certified in it....I may be hooked!
Pre-workout snack
1 banana
1 scoop choc whey
1 c 1% milk
1 c cold coffee
Post-workout snack
1 c non fat yogurt
1/2 scoop choc whey
1/2 apple
P90X Round 2 Classic Day 46

Workout - Chest, shoulders & Triceps
Mood - Good
Wt - 116
Time of workout = 55 min
Cals burned = ?
20 Slow pushups, 10 fast
15 - 5lb inout/shoulder flys
20 Chair dips straight leg
15 Plange push up - elbows next to chest
10 Plank pushups - like your doing a head stand
15 Side tri-rise
10 Floor flys each side
15 - 5lb Scarecrows
15 - 10lb Overhead tri-extensions
15 Two twitch speed pushups - vary speed sets
20 - 5lb Y-press
20 - 5lb laying tricep extensions
20 - 5lb leaning tricep extensions - I did from triangle stance, not chair
0 - One arm pushups
40 - 3lb weighted arm circles
12 - 5lb Throw the bomb
5 Clap/Plyo pushups
10 - 5lb Slow-mo throw
20 - 5lb Front to back tricep extensions
0 - One arm balance pushup
15 - 5lb Fly-row press
25 - 5lb Dumbbell cross body blows