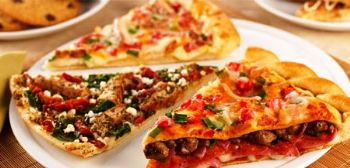 PHOTO - Papa Murphys
www.papamurphys.com/OurMenu/Overview
Mission Bikini is just 8 days away, and its time to really clean up the meal plan this week.
I won't be having any coconut in my oats, and will be dropping my carbs a bit to tighten up. Looks like its going to be chicken with veggies all week, yummo!
Last nights workout was a real muscle blaster. Upper body training a nice complement to my Yoga in the morning and Walk at lunch. (rest legs rest)
S.W.E.E.T.
As you can see how I placed the movements this really added to the challenge.

Bring it hard, Train Dirty = Results (love that Bekah)
My stats are the same as last week which is expected because of the pizza or I feel I would have had another drop. Weight today 123.5.
Workout - Fat Blasting Yoga w/Denise Austin + Walk at lunch + Client

Time of workout - 20 min + 45 min walk + 45 ST w/Client
Cals burned = 88 + 168 + 135 = 391
Client workout upper body:

2x20
Bent over rows - 25lb
Lat pull downs w/band
Hyperextension on the ball
Seated back rows w/band
Tricep standing overhead w/band
Forward grip bicep curl - 15lb
Bench dips 20/30
Chest press
Chest flys (combo second round w/chest press)
Incline curls
Concentration curls - 15lb
Lateral T front/side raise - 10lb/8lb
Shoulder press w/band - w/db
My Meals - (Hence PIZZA 3 slices in the day)


Breakfast
Peaches, canned, water pack, 1 cup, halves or slices 59 15 0 1
Coconut, raw, 0.5 piece (2" x 2" x 1/2") 80 3 8 1
Walnuts, 0.5 oz (14 halves) 95 2 9 2
Cinnamon, ground, 1 tbsp 18 5 0 0
Old Fashioned Quaker Oatmeal- Plain (1/2 cup dry), 1 serving 150 27 3 5
Breakfast TOTALS: 400 53 20 9
Lunch
Pizza Hut Medium Thin 'n Crispy Veggie Lover's Pizza (1 slice), 2 serving 360 46 14 16
Lunch TOTALS: 360 46 14 16
Dinner
Pizza Hut Medium Thin 'n Crispy Veggie Lover's Pizza (1 slice), 1 serving 180 23 7 8
Dinner TOTALS: 180 23 7 8
Snack
Banana, fresh, 1 medium (7" to 7-7/8" long) 109 28 1 1
Regular Coffee, 1 cup (8 fl oz) 2 0 0 0
Whey Protein 100% Gold Standard Dbl Choc, 2 serving 240 6 2 48
Fire Water - 1/2 Lemon w/ 1 dash Cayenne Pepper, 1 cup 7 2 0 0
Snack TOTALS: 358 36 3 49
Snack 1
Quest Protein Bar - Vanilla Almond Crunch, 1 serving 230 19 12 20
Snack 1 TOTALS: 230 19 12 20
Snack 2
Gold Standard 100% Casein Protein, 1 serving 120 3 1 24
Snack 2 TOTALS: 120 3 1 24
CALORIES CARBS FAT PROTEIN
Totals: 1,648 179 57 127
DEFICIT = 391


MISSION BIKINI = 8 DAYS