As promised.....Here are some of my cool things to do my table display for the
vendor fair this Saturday.
I know you thinking FINALLY!
We will be located in the School gym, not the church
Saturday September 19th, 2009 from
9am-3pm at Green Park Christian School near South County Mall.

https://www.greenparkchurch.com/Home_Page.php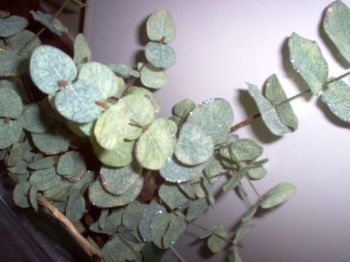 Sparkle eucalyptus, I think its for Christmas but I love the glitters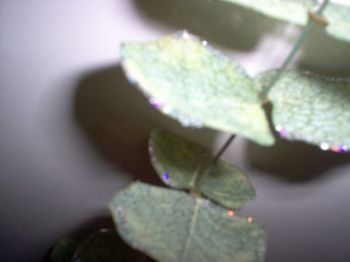 Can you see the tips?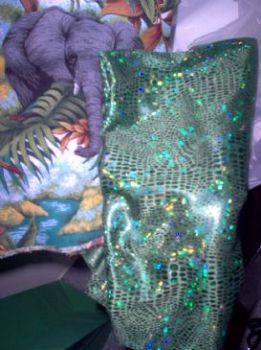 2 of the fabrics, see how wonderful that green glittery snakey one is? I think its going to really show off the bottle. The safari fabric will be laid out on the white table cloth with our demonstrating bottles in a cooler on top along with a burgundy binder that tells you about the product. I have about 4 plexi signs, that will be used with information/signs and one that says Free health demonstrations, and a sign up sheet.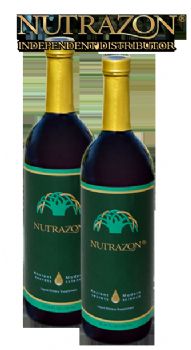 Here is what our product looks like, I think its going to be all pulled together with just enough sparkle don't you?
I'm very happy with my decorating goodies and will take pictures of the table once I get it together tomorrow morning. I have some risers to put the bottle on and a really matching gift bag that I will add the eucalyptus in with some tissue paper white of course and it will say: "Give yourself the gift of better health"
Last night my massage was wonderful!

50 minutes of complete bliss! Next time I am going for the hot rock massage, ever have one? I started to get certified in this area once, its big in Arizona but never did. I'm just too cheap to pay for one its expensive in STL so now I am going to with this school cause its way cheap! What the heck even if its not that perfect it will be worth $25! I also like the fact that I am helping others.
My guy, Tim was very good. Although he was a bit off on flow, other then that he will do well in the field. I did enjoy that he actually put my arm behind my back, and got my whole shoulder blade back area. I have never had anyone do that, it was heavenly with all those push ups I do! Lat bliss woo woo.
I slept super-duper great and I got up and hit the weights with avenges! Not sure if I am getting stronger but I am still sweating like crazy.
Here is my workout today:
and T. is very happy with my stats this week, thanks Karen!
Workout = ST Workout B
Mood - RAWK
Wt - 116
Time of workout = 40 mins
Cals burned = ?
Stats:
Wt - 116 (almost a month now at this number woo woo)
BF% - 21.5 (down from 22.3)
BMI - 19.9
5 min eliptical trainer warm up with shoulder & tri stretch
3x10 - 40lb BB Romanian Deadlift
3x15 - 20lb BB Walking Lunges
3x12 - 10lb DB Standing Alt Shoulder press
Push ups:
Set 1 = 10
Set 2 = 5 then 15 girly
Set 3 = 5 then 15 girly
3x15 40lb Lat pull downs - last set 55lb
5lb Side planks DB lifts - I did 3x10 pull throughs (I was supposed to do 60 second holds I did 45-50 seconds)
10 chair squats
Just for fun, and power I added:
1x10 hyper extensions
1x15 55lb asst pullup
1x7 45lb asst pullup close grip
Getting the Rockstar Body..........