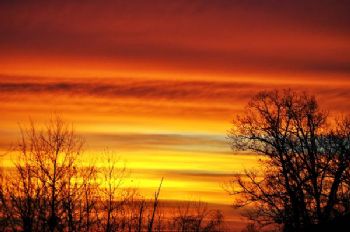 Sunrise From Imperial MO 3/3/2011 credit: KMOV.COM
Today I feel better and stronger then I have since Monday.
I can finally hear so I know my head is clearing up. I still have a lingering annoying cough but I can certainly deal.
I was reading a blog the other day (wish I could remember the blog) and
she uses the pouch baby food for meals on the go.


Has anyone ever done this?
She had one that looked like a veggie mix, and said they are very easy to pack when you don't have time to cut up a bunch of veggies. I don't know anything about baby food and didn't even know they came in pouches now.
I got my MINI Cooper back from the shop yesterday all fixed up
, but it took my whole lunch hour so I only walked for 10 minutes. Today's plan is a walk or a tan, just waiting to see how the weather is.
Feeling like I need to sweat out the rest of this "ick".
I am on day 4 of my new meal plan and so far have done well with only 2 cookies and a sugar free pudding on Tuesday when I was not feeling like eating at all.
Right now with this meal plan I feel so full, I don't even want a snack plus my spinach in the morning really helps me stay full too.
I just love those Green Monsters and for those of you that tried them, tasty huh?
This week workouts = Zip.
NO EXCUSE I MAKE IT HAPPEN