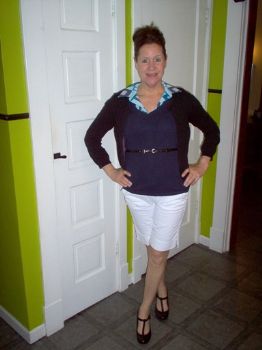 I got to sub last night and teach Yoga + Core it was great. I just love doing core and coming up with fun ways to challenge it.
When I got home I had to train my client and figured who better then her to try some new core moves I have never seen done with a pilates small ball. It was so fun, and she really felt it so I knew I was going to incorporate it in class.
Here it is as a 1 minute move:
1. Get into plank with small pilates ball under your feet
2. Hold for 30 sec
3. Then bend knees in slightly to almost touch mat and then back up for 30 sec
Can you do it?
A small ball is so much harder then the large. After training my client from 5.15-6.15pm I changed and headed for the studio.
My meal plan has been going fine, a few adjustments but staying the course. I am doing the Extreme 90 with my nutrition plan.
Weekend plans.....Saturday Massage and chiro, then my friend is buying me a pedi for taking her shopping I am so happy! I just love dressing her she is such a small size its like dressing a Barbie doll, fun, fun, fun!
Happy Cinco de Mayo!