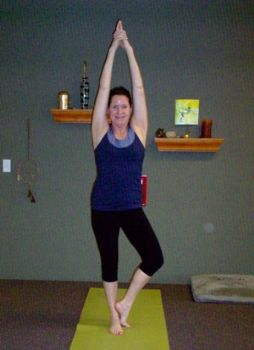 Took this picture last night before class began at the studio I teach at. I only had a few minutes so I just took these as fast as possible.
It took me a few days to check out this 4 DVD workout but its on sale for $29.99
www.examiner.com/article/hot-body-cool-mind-new-dvd-workout
Last night when I taught, and got to do a few more fun poses.
I asked what the class would like and one said Fish pose! I was just looking at that pose that morning thinking, I want to do this one tonight.
Usually when I know I am going to teach, I try to find a few things to incorporate that I feel other instructors may not be doing just to mix it up. Strength training poses are what I am known for, and I keep that to a level I feel is just challenging enough for the class.
What were the FUN moves:
1/2 Sun salutation
Downdog push ups on toes
Stacked foot dolphin push ups
Cobra rolls
Warrior series flow
Fish pose
No matter what workout you are doing you always want to be sure to challenge yourself to push the body to change. Thankfully I was greeted after class with......"loved it, really loved it!!!" makes it all worth doing..........
Do you have a favorite Yoga pose?
Last pose of me playing :-)