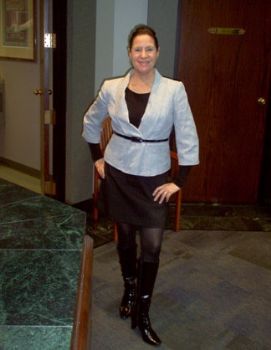 I was at work when I got these delivered to me yesterday (Outfit by: Jacket - The Limited, Skirt - Loft by Ann Taylor, Boots - Nickel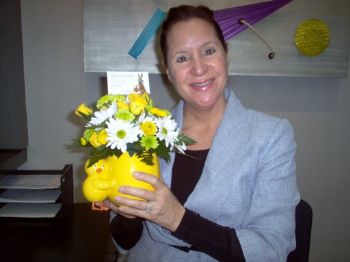 Its an egg with a chicken hugging it = love! I do look "cheesy" huh?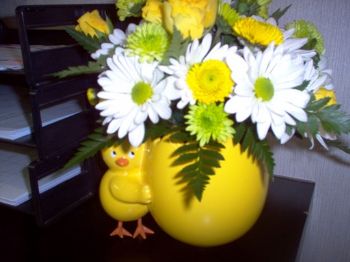 Adorable!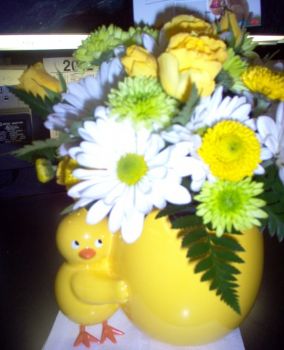 Mini roses and daisy's I love the green button ones.
My shoes today
....I took this in the ladies room lol (Got on sale for $25) They are super cute with buckles that look like the Ralph Lauren logo. And note: It was last year I said I would NOT buy shoes, so far this year I have bought 5.
1 Boot shoes
2 Works shoes
2 Sandals
I will wear these with my new skirt, maybe for Easter. Not sure we are going to late church service then to the cemetery and brunch is at 3pm at a log cabin. *sigh miss you mom RIP.
On another note I tried this chicken and love it, easy to make on the Foremen Grill and juicy and clean just how I like it. (It is frozen here I just snapped the picture for the blog)
Ever try it?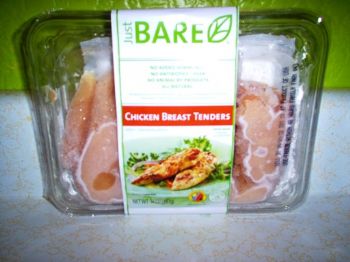 I usually by the Perdue boxed breasts
, hormone, cage free but this was smaller and easy to cut for my rice dinner plus on sale!
Do you have Easter plans or traditions?
This is my first one without my mom so I guess I have to make new traditions.
Happy Easter and blessings to all!