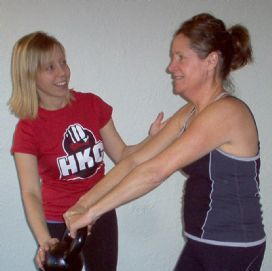 I'm loving the feeling of Kettlebells
, and just thought I would share that this is a 30lb-er in this photo BAM!
Here is the scoop on the place in St. Louis that they did that really cool functional training test on me, and I learned proper form. (and Bob Harper too)

www.examiner.com/fitness-trends-in-st-louis/new-st-louis-kettlebell-studio
Now as far as the Rachel_Mac picture challenge things are moving right along.
I have loaded up on my "sugar free" treats
and have been working out. Not as hard as I like though.
Why?
My back is out.*sigh, not bad just about bad and I don't want to push it.
Gotta make my fav Rach proud of T.
I am going Wed after work to the chiro to get it back in line.
Not sure if it was from Strappy Yoga last night or over working Kettlebells.


Last night at 5.45 yoga class I made it right on time even with traffic and changing time.
I was the only client at class, so I got a one-on-one with the trainer and she put me back on the wall. As I hung upside down, in a cradle type strap it felt very good to de-compress really.


But then this morning the fact of swinging any kind of kettlebell or dumbbell was just not going happen.
Then I thought, why not Zumba?
Just feeling the sway of my hips made me feel stiff and icky so I decided best to try to do something tonight after work.
Maybe.......Pilates.Meals plans = check

No sugar
High protein
Lower in carbs
2 fruits (really check my ticker)
Workouts = check

Cardio blast on Sat (500 cals)
ST blast on Sun
Yoga + Wall on Mon
I'm itching to get to my TRX now so as I get that down pat, I am taking it to the park with me anytime its above 45 and no wind.
NO EXCUSE I MAKE IT HAPPEN