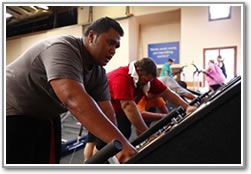 OMG I am so excited to say that you have seen the Jacobs Ladder
used on the BL show and some gyms have it and its the BOMB!
Now you can get a
smaller home version
, I just got the email today!
Here is the link:
www.biggestloserladder.com/
It is a manual machine so you work at your own pace.
I did this machine 4 or 5 years ago at a fitness convention and thought it would be great for home but its just way too big.
(AND IT DID NOT HURT MY BACK OR KNEES which most of you know I have issues there)
This one is $1,000 less and you can make payments on it. Just wanted to share this in case anyone has seen it and wondered about it or how to get it.
(I will be doing an article on this over the weekend because I just love this workout)
NO EXCUSES I MAKE IT HAPPEN!