Who gets your vote?

I watched BL last night and another 2 records were broken, and
I spotted a new move to try!
First Daris with the time and then the fact that all remaining contestants finished and got the 10,000 charity check. How about Michael getting under 300 lb you go M!
It was a great show I am glad that Ashley and Mike are both in, starting as the biggest ever on the show how awesome is that to be in the finals?
New Move:

I have never seen this (maybe you have)....it was Jillian had Ashley on the Hyperextension chair and throwing a med ball to her. (this is the machine)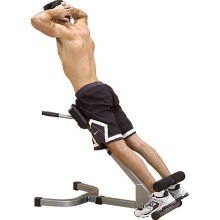 I really loved this move and have not seen it. Usually people use a weight plate and do lifts or obliques but this one with the med ball...RAWKED!
Here is what she did if you missed it:

.....throw med ball to her, catch in low position and touch the floor with ball, then lift up to extension holding ball, then back down to throw ball back to her..... GREAT move JM! (I'm guessing this was a 4-6lb med ball as not to strain the low back)
My post workout snack today:
1 Scoop pb chocolate Muscle milk powder
1 c almond milk
YogaMelt Down Level 1 = 30 min

Mood = Need it!
WT = 120
Cals burned = 65
"Body weight workout - Be comfortable being un-comfortable" JM
Warm up
Mountain pose & Breathing
Workout

Crescent lunges lifts
Plank
Chateranga pushup
Sun salutation
Warrior lunges - R leg
Camel heel touches
Camel
Rolling T-Side planks
Warrior lunges - L leg
Plank
Camel heel touches
Sun salutation
Warrior 3 - R leg holding leg pose
Elbow to plank to dolphin
Locust
Warrior 3 - L leg holding leg pose
Elbow to plank to dolphin
Locust
Cool down
Single leg bent reach stretch
Twisting spinal stretch
Pigeon
Here is my take on the Biggest Loser last night, I do want Ashley to win....

www.examiner.com/x-28813-St-Louis-Fitness-Trends-Examiner~y2010m5d19-Biggest-Loser-Daris-crushes-marathon-record
Who do you want back, did you vote and for who? Any guess on a winner?
NO EXCUSES I MAKE IT HAPPEN!