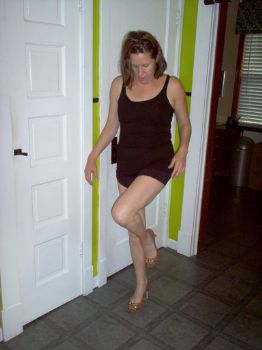 Hello Cinderella!
One of my clients gave me a pair of Antonio Melani shoes that were too small for her, and she only wore them once...they fit me perfect!
I put them on right after we finished working out, and love them so much I wore them to the office today yay! This weekend will be fun, remember I told you about the other part of my facial...woo woo! I will be getting a facial on Saturday afternoon right after my 9-10am yoga session with my girlfriend, and then teaching the 11.15am class at the studio I work at.
With the Susan G. Koman race this Saturday I don't expect many to be there, as a matter of fact lots of people will be downtown for the good cause.
Its been a while since I posted some workouts, or food pictures for that matter so I guess I need to get busy with that so....... Here are this weeks workouts:
Monday:
Workout - Client training
Time of workout - 30 min
Cals burned = 198 Step - 8 min w/db
x2
Side plank ladder leg lifts
Ball push ups Bosu bent over rows
x2
Bosu planks Bosu jumps
Bench chest press
x1
Bosu pull up pants
Bosu triceps kick back Bicep curl to shoulder press
x1
Bench climbs
Reverse crunch w/pilates ball
Reg crunch reach up w/pilates ball
Ankle to ankle w/pilates ball
Tuesday:
Workout - Client training ST
Time of workout - 20 min
Cals burned = 132
Step - 8 min
Push up on Bosu
Bent over row on Bosu
Decline db chest press
Bosu jogs
Plank on Bosu w/right left leans
Pull up pants
Bicep curl to shoulder press
Bench dips w/leg touches
Med ball squat w/overhead lift
Tricep kick backs
Bosu core
Wednesday:
Workout - 2 Client training back to back
Time of workout - 45 min (2hr session)
Cals burned = 297
Client 1:
x2
Sandbag cleans Plank on Bosu
Bosu push ups w/tilts
Jumpless rope - 2 min
Bent over body bar rows
Body bar shoulder rowing
Bosu squats w/upright row and toe lift
Bosu lunge w/kettlebell thrust
Jumping Jacks - 2 min
Boxing 3 rounds x 50
Yoga
Client 2
:
x2
Bosu step Bosu alt forward lunge
Bosu squat w/db 2lb
Bosu jump over
Bosu step sumos
Bosu hops
Bosu push ups
Bosu plank w/leg raise
Bosu tilts Bosu crunches
Bosu knee ins
Bosu straight leg scissors
Bench dips w/toe touches
Thursday:
Workout - Client training
Time of workout - 45 min
Cals burned = 297
x2
Resistance band overhead tricep
Plank pikes on stability ball
Stability ball push ups
Shuffles w/ circle ring- 2 min
Banded side abductor
Stability ball chest press
Stablity ball straight arm overhead
Stability ball skull crushers
Shuffles w/circle ring- 2 min
Banded side abductor
Mountain climber on towel
Med ball roman twists
Med ball roll ups
Cals burned for the week = 1056
Fitness Minutes = 160
Calories in = 8687