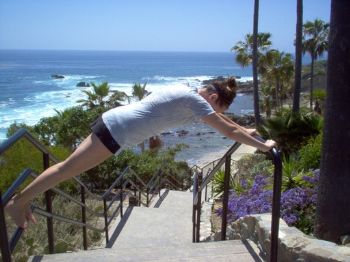 Wish I was in Laguna Beach
right now doing pushups like this....or seeing this, I love this area it looks like a post card!
Last nights workout:
Workout - W/client circuit

Time of workout - 30 mins
Cals burned = 198
2 minute intervals - 1 minute rest:
Step ups w/front lateral raise w/db
One handed pushups one works one on Pilate's soft ball
Step up w/back front db swings
Step up side leg lateral lifts for abductors
Drop forward 2 jumps w/plyo jump at top
One handed pushup on med ball
Squat with kettlebell over head swing
Drop forward 2 jumps w/plyo jump at top
Squat on stability ball
Core:
Db scissor straight leg lifts reaches
Db scissor ankle crunches
V sit w/side obliques w/8lb med ball
Sand bag crunches
Sand bag reverse crunches
Boxing:
3 minutes w/knee ins
Side twists
Side leans
2 min jabs straight up and down
Recipe #4 very good Chicken Dejion

Easy and fast just cutting the chicken took the longest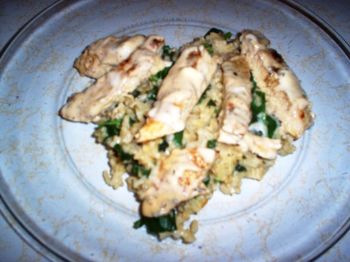 1. Just brown breast in EVOO about 5-7 min each side
then sprinkle with paprika, and empty chicken from skillet leaving drippings.
2. Cut chicken in strips and set aside.
3. Add to skillet low fat sour cream 1/2 c , dejion mustard 1 tbs and brown in drippings.
4. Spoon enough mixture over set aside chicken (about 8 tbs) then cover chicken strips, and leave the rest of the sauce in the skillet.
5. Fold in rice and 1 cup of fresh spinach to the remaining sauce and cook till wilted.
6. Place on plate and top with chicken
Cals - 290
Carbs - 12
Protein - 22
Yum, I would have liked a bit less sour cream so you may want to add less then 1/2 c.