Here are the memory box pictures I made.
I will take some of the inside when I get a chance and everything is organized.....Some things are tied in ribbons so far.

I created these from things I got from Michael's and I think they look great. The large one is for cards and memory things, the small one for pictures.
My New short do
Box 1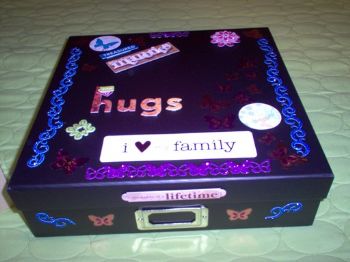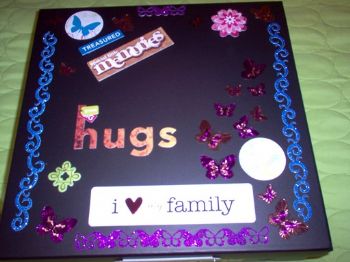 Box2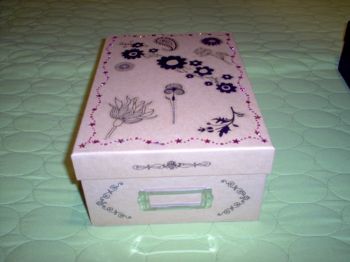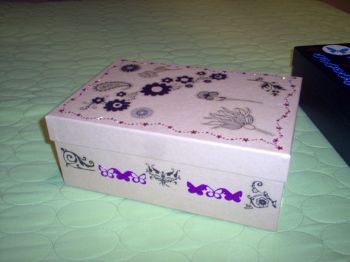 I still have to add some words on the front so I left space for that, I hope Diane can help me :-)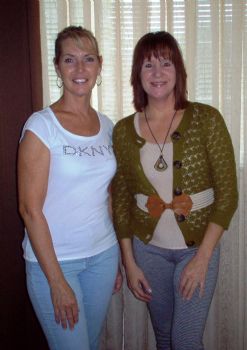 So many times I get people that love doing planks and pushups but have pain in the wrists.
I did a video on this and if you have some discomfort you may want to check it out it is what I teach in class, and use myself.
www.youtube.com/watch?v=VgsVtz24Du8
Last night I finished the "
Shrink the Fat Zones" Pilates
workout by Denise Austin I give it a 9.
1. Love she uses a towel for resistance
2. Some flow moves are fun and challenging
3. She always talks about correct form
4. The core was very good, lots of variety (I love core)
5. You will feel the burn in the legs, but not so much in the glutes (so I took a point off for that)
Workout - Shrink your fat zones Pilates/ Denise Austin
Time of workout - 15 min (core only) + 40 = 55 min
Cals burned = 34 + 90 = 124
Last night was client workout and I did finish Pilates!!!
Finished the other 2 sections of Pilates took 40 minutes and I liked the flow very much.
Upper Body - rate 10
Lower Body - rate 9
Client workout:
TRX Single leg squats
TRX Pull ups
TRX T- stand
Dead lifts
Lunge with twist w/db
Cable cross overs
Laying tricep lifts w/db
Bent over rows
Squat w/lateral lifts
Bonus - Bicep curls
Squat challenge = 60
I am going to do a Yoga Movement Workshop on October 22nd and I can't wait. I will be creating some body weight training and using balls and bands.