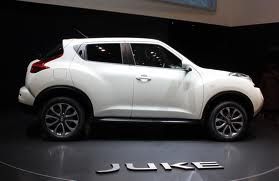 2011 Nissan Juke SL Pearl White with the Sports Package and heated leather seats.


This is the exact look of my car, and its just super cute :-)
I took some pictures but have not had time to load them up so I will add them to this blog later this week. (I know time gets away from me)
I have only drove it 1 day so far on Saturday!
Since we have had rain/snow I have to get used to the Juke before I take it out in bad weather. I know I am being a "scardy cat", but I just don't trust other drivers really in bad weather and have NO idea how this one will react in it.
Also since its 12" bigger then the MINI Cooper I have to learn how to back it up in my parking spot so I need to leave for work earlier then I have been. Something about winter, it makes it harder for me to get up at 5.30am.
Is anyone else in hibernation mode during winter???


On another note, I made 8 Yoga Mat bags to sell at the Yoga studio and I will be posting pictures of those as well. I think they turned out really great I just have to get a new draw string for them because what I bought was too big for the closers. *sigh
What would you pay for a homemade Yoga mat bag?


Extreme 90 Day 6 today....tonight plus client. After the first week I will post my thoughts but so far I really like it!